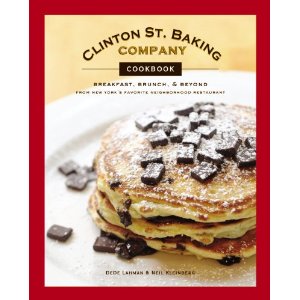 I can't believe I forgot to review the Clinton St. Baking Company Cookbook: Breakfast, Brunch & Beyond from New York's Favorite Neighborhood Restaurant when I made the po'boy sandwiches from it a few weeks ago. Duh! I had received a review copy from the publisher and they kindly offered an additional giveaway copy for one of my readers.
When I first received the cookbook, I wasn't expecting much. From the publisher:
The Clinton St. Baking Company is one of the hottest brunch spots in a city obsessed with brunch. A tiny thirty-two-seat eatery on Manhattan's trendy Lower East Side, the restaurant draws long lines of customers who come from far and wide to sample fresh-baked goods, hearty omelets, sugar-cured bacon, and light-as-air pancakes with maple butter.

In the Clinton St. Baking Company Cookbook, owners DeDe Lahman and Neil Kleinberg share more than 100 treasured recipes that have made their restaurant a sensation. Learn the secret to their house-made buttermilk biscuits and tomato jam, irresistible muffins and scones, delicious soups and sandwiches, and their decadent, eye-catching desserts. Helpful techniques, like Neil's patented omelet "flip and tuck," and gorgeous color photographs throughout will have readers cooking like pros in no time, and sharing the delicious results.
I don't know why, but I was expecting a TON of breakfast food. I was pleasantly surprised to discover a number of neat little recipes and sauces. Best of all, it does a great job of explaining exactly how to cook things – it doesn't assume you know how to make an omelet, or the best way to mix things when baking.
Congratulations Renee Richardson for winning!
To enter, simply comment below with the name of YOUR favorite brunch item. Entries will be accepted until January 6, 2011, midnight EST. Limited to the U.S. and Canada.