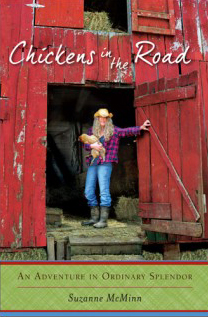 I am often sent review copies of books from the "blogger moves to the country and discovers herself by living off the land and making her own soap and gardening" genre. I suppose they are popular because they have a built-in audience (their blog readers) and, let's face it, in today's crazy world just about everyone fantasizes about a simpler life in the country.
I had not heard of blogger Suzanne McMinn before, but I absolutely fell in love with her book Chickens in the Road. I was not surprised to discover that she was a romance author in a previous career; the book is incredibly well written and didn't drag at all, even at the dreaded 3/4 mark.
Best of all, while most of the books in this genre claim to be about finding oneself, in this book she actually does. With humor and just enough detail, you feel a friend is telling you a great story. I found myself wishing that I had come across her blog earlier. The stories about cows and goats wearing costume and reader parties on the farm sounded like great fun. But as I mentioned before, you needn't have been a reader of her blog to enjoy the book.
From the promo copy:
Available now from HarperCollins–Chickens in the Road: An Adventure in Ordinary Splendor, the wild and juicy memoir of my life at Stringtown Rising Farm. (Cows, cookies, high water, and love!) Plus special sections with recipes, crafts, and photographs. (What more could you ask for?)
The photos were fun, but the recipes and crafts seemed like an afterthought. I'm not sure how wild and juicy it was, but it was en enjoyable read indeed.