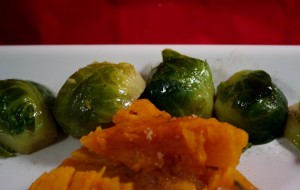 It was a little weird buying brussels sprouts already off the stem, one row over from asparagus in December. The tag told me it was from California; I had my doubts, but really wanted sprouts and since I've been traveling haven't had a chance to get to the indoor winter farmer's market. So California sprouts it was.
FOR PRINTABLE VERSION CLICK HERE: Brussels Sprouts with Brown Butter
Source: The Commonsense Kitchen: 500 Recipes Plus Lessons for a Hand-Crafted Life, a cookbook I haven't reviewed yet but fully intend to once I get a few more recipes cooked from it.
1 lb brussels sprouts, halved
1 cup water
1/4 tsp salt
3 Tbs butter
salt and freshly ground black pepper to taste
1. Halve brussels sprouts; bring the water to a boil in a medium saucepan; return to boil; cover, and let boil for 4 minutes or until tender but not overdone.
2. Drain brussels sprouts and remove from pan; rinse pan and set it over medium-high burner, waiting a few minutes for it to dry. Add butter; allow to melt; when melted, swirl, and cook until it becomes brown and smells "heavenly." I totally guessed on this part. Luckily I seemed to get the timing right.
3. Return brussels sprouts to pan and stir to coat with the brown butter; add salt and pepper to taste.
Servings: 4
The Verdict: While DH was waiting for his venison chops to cook, he snacked on the sprouts and said "these are really good." They were! They almost tasted sweet, which is strange because I didn't use any sugar. I served them with roasted hubbard squash and the venison that DH cooked. So, aside from the California brussels sprouts, the rest of the meal was local!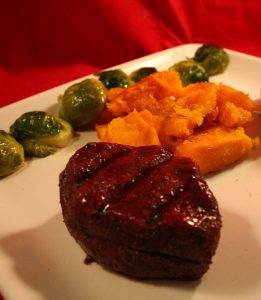 Nutrition Facts
Serving size: 1/4 of a recipe (6.5 ounces).
Percent daily values based on the Reference Daily Intake (RDI) for a 2000 calorie diet.
Nutrition information calculated from recipe ingredients.
Amount Per Serving
Calories 117.18
Calories From Fat (69%) 80.72
% Daily Value
Total Fat 9.21g 14%
Saturated Fat 5.59g 28%
Cholesterol 22.9mg 8%
Sodium 512.4mg 21%
Potassium 362.67mg 10%
Total Carbohydrates 8.06g 3%
Fiber 2.95g 12%
Sugar 1.98g
Protein 2.98g 6%
This post also shared with Things I Love Thursday, Tasty Traditions, Ultimate Recipe Swap, Pennywise Platter, and Wholesome Whole Foods