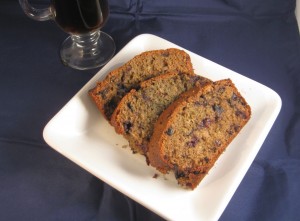 Update 6/2: Now that strawberry season is upon us, why not go berry picking with the kids? Then have fun making yummy desserts and breads.
I recently discovered a couple of sources for locally grown, frozen fruit. When I first started learning about the benefits of eating local, I thought that for sure I'd have to learn how (and remember!) to can, freeze, etc. I began last year with good intentions, but sadly didn't end up preserving much. However, just as I don't need to garden to eat local vegetables (the CSAs I'm a part of do a great job, and plus the only sunny spot in our yard is used by DH for growing hops for his homebrew), I am able to find sources for canned/frozen locally grown foods so I don't have to do that for myself either.
So this morning I decided that since I couldn't sleep in I'd make some Blueberry Bread for breakfast. For those keeping track, it's from the Strawberry Bread recipe in the spring section of Simply in Season.
1 C flour
1/2 C whole wheat flour
1 1/4 C strawberries, mashed (or you can substitute peaches, blueberries like I did, or a combination)
3/4 C sugar
2/3 C oil
2 eggs
2 tsp ground cinnamon
1/2 tsp salt
1/2 tsp baking soda
Mix together until just combined, pour into loaf pan, and bake in a preheated oven at 350F for about an hour, or until a toothpick inserted in the center comes out clean.
A note about the oil: I used the last of my vegetable oil and didn't have any more. I read recently that soy might be better but I haven't gotten around to getting any. So I used some olive oil; I hope it turns out!
The verdict: I thought it was funny that the first thing DH said when he found me in the kitchen slicing blueberry bread was not "what are you doing up so early on a Saturday morning?" but "where did you get the blueberries?" He said the bread was good, but not nearly as good as the pumpkin bread. I thought it was quite tasty, although not as flavorful as I'd expected with Michigan blueberries. Still, it went together quite quickly.
This post linked to Works for Me Wednesday