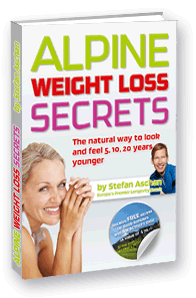 Alpine Weight Loss Secrets by Stefan Aschan is a fun, easy to read book about weight loss and healthy living.
As you can tell by now, I read quite a few diet books, so I jumped at the opportunity to review this new book by Stefan Aschan. I appreciated how it's about a wide variety of health issues and not just weight loss. Chapters include:
Change your mind, change your body (flex your mental muscle)
"Lighten" your metabolism
Alpine Eating: Choose Tomatoes Not Potatoes
Improve Your Fat-titude
Instant Anti-Ager: Your Posture
The At-Home Alpine Aerobic Solution
Train Yourself "Jung" (young)
A Flat Belly – "Schnell" (fast)!
The Joy of Living: Think and Grow Thin
"Hudry Wusch": Eat Yourself Thin
"Holodrio!" Stay, Feel, and Look Young for a Lifetime
What I Liked: There are also easy-to-use worksheets for most of the chapters, and tons of helpful tips sprinkled throughout. The advice seemed solid, congruent with what I've learned about healthy eating and living naturally. Lots of tables and charts which made it easy to understand.
What I Didn't Like: At times, it seems a bit overwhelming, and you wonder how you would be able to implement everything. Also, it sometimes gets a bit old hearing over and over how great living in an Alpine village is and how terrible Americans are.
You can learn more about Stefan and his book at his blog http://strength123.com/.
Would you like to win a free copy?
Stefan is offering one lucky reader of my blog a free copy! To enter, simply comment below saying why you'd like to win. Entries will be accepted until January 20, 2011, midnight EST. Limited to the U.S. and Canada. The publisher sent me a free review copy but all opinions are my own.