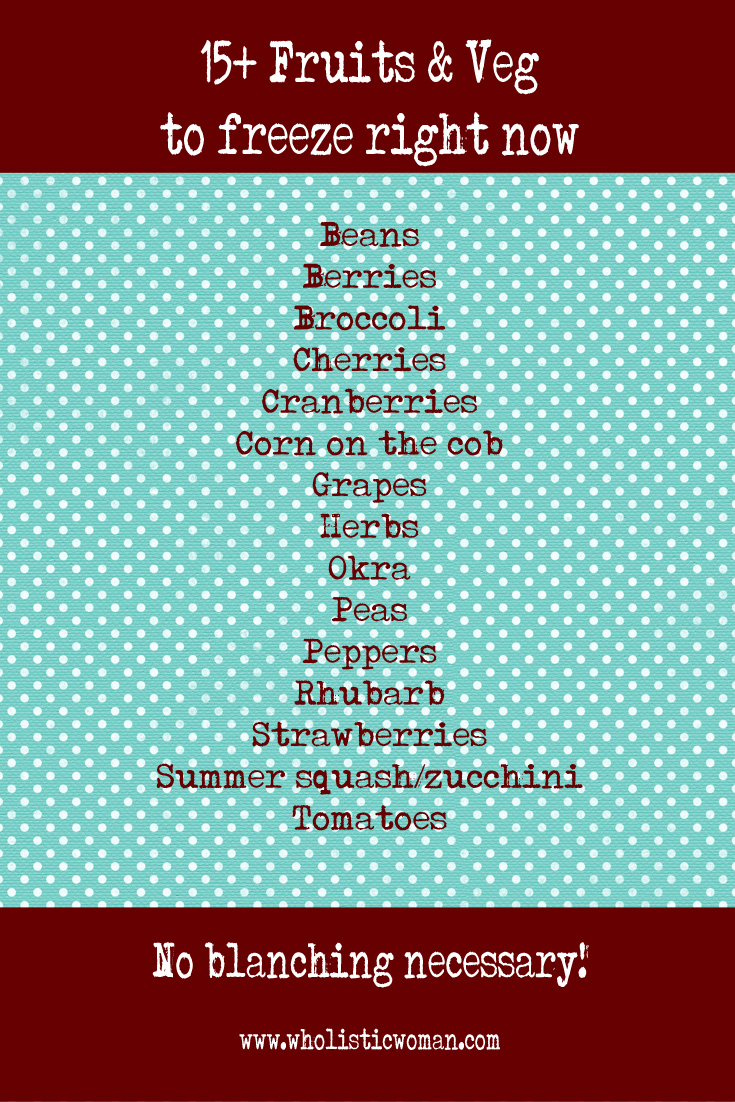 What can I preserve without blanching? That's the question I ask myself when I find I have too much produce to eat before it goes bad. I'm just too busy to mess with steaming/blanching/boiling. Not to mention we don't have air conditioning and the last thing I want to do is stand over a hot stove in the middle of a steamy, Michigan summer.
A few years ago I received a copy of The Busy Person's Guide to Preserving Food: Easy Step-by-Step Instructions for Freezing, Drying, and Canning
 (Amazon affiliate link), which has been one of my go-to references ever since.
The biggest revelation for me was discovering that you can freeze many fruits and vegetables WITHOUT BLANCHING THEM FIRST. Wow! That made my life SO much easier. Just wash, chop, and vacuum seal. Done. It might not last quite as long in the freezer as the blanched technique, but it's better than nothing.
So what can you freeze without blanching? Here's a list below, which I gathered from the book plus various sources over the past couple of years.
Beans (trim ends. Lasts up to 6 months.)
Berries (tray freeze)
Broccoli (florets last 6 weeks, stalks 3 mos)
Cherries (tray freeze)
Cranberries (tray freeze)
Corn on the cob (keep in the husk; lasts up to 4 mos)
Grapes
Herbs (if they're thick and leafy like basil and parsley)
Okra
Peas (shelled)
Peppers (chop and tray freeze, or freeze them whole)
Rhubarb
Strawberries
Summer squash/zucchini (slice into 1/4 inch thick or grate for use in zucchini bread recipes)
Tomatoes (can core and keep whole, but works better when you puree it)
Other vegetables that need a little work but not much:
Greens (stir fry until wilted, 2-3 minutes before freezing)
Onions (tray freeze, then put into bags)
The book also includes recipes and instructions for canning and drying, but the chili turned out awful so I haven't tried the other recipes. There are numerous other tips included, though.
Of course, the old fashioned way of making salsa, relish, soup, and canning applesauce brings back fond memories and I know of a lot of people who have whole days dedicated to a canning bee. These are a lot of fun. But often they are during the day so I can't participate unless I want to use one of my precious vacation days from work. So unless I give up a Saturday, it's just not happening at this stage in my life. I do a few things here and there, but no huge canning bees for me. If it's something you'd like to try, Canning Across America is a super helpful site.
How about you? What shortcuts have you found to make preserving the harvest quicker?